Practical Advice for Renter Satisfaction
By Michelle Gamble
The No. 1 reason to go the extra mile to keep renters happy is simple: Renter turnover is costly. Like most things in life, it comes down to dollars and good "sense" to do things to retain renters over the long run. Turns out, according to many experts, it doesn't even take that much time to do little things to impress renters and create goodwill that will keep their satisfaction high. 
Realize that if a renter moves out, unoccupied space results in no rent coming in. In California with housing shortages, spaces can be filled faster than usual; however, even in the best-case scenario, it can take up to three months to get a new renter in.
"Renter turnover is very expensive," said Marina Vaamonde, owner and founder of HouseCashin, a Texas-based company. According to Alex K.'s blog post on Rooftop titled "Our First [Renter] Turnover Experience." "There are three big components to this process: the move-out, getting the property rent-ready, marketing it and leasing the property to new [renters]," "Turnover is something all property investors deal with, and if not handled properly, it can really eat into your bottom line. Tenant turnover costs can range anywhere from $1,000 to $5,000, but estimated averages are somewhere in the ballpark of $2,500. The bottom line? Minimizing these events and getting through them as efficiently as possible is critical to your bottom line."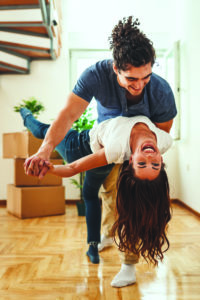 After you factor in what Alex K. just described, it doesn't end there. More expenses can also be incurred. Vaamonde said, "When a [renter] leaves, you have to pay someone to extensively clean the place, make sure all the appliances are in good condition, and sometimes even paint or replace the carpet. This not only costs you money because you have to pay for cleaning services, but also you can't rent the unit out as it's being cleaned. This means you're losing out on revenue."
These expenses justify why it's so financially prudent to invest in and retain good renters. "The longer you are able to retain renters the more profitable your rental will be," said Bill Samuel, a property provider based out of Chicago. "Tenant retention almost always leads to lower property expenses, and therefore, bigger profit margins."
So, with cost considerations and a strong desire to be a great property owner, what can be done to keep renters happy?
START WITH RENT
As you embark on the process to examine what you can do to retain good renters, consider putting policies in place designed to enhance the property-owner-renter experience. "I apply 'The Grandmother Test'," said Vaamonde. "If I wouldn't let my grandmother, whom I love dearly, live in the unit that I want to rent out, then I won't rent it out until it's in better condition. 'Treat others as you would yourself,' as the saying goes."
Develop policies rewarding good renters, such as limiting rent increases. Unless someone's budget has also increased, a rental increase can drive people out of your properties. They simply can't afford it – and this is especially true since COVID caused many people to lose their jobs. "We like to pass some of the savings we realize from repeat renters on to those renters," said Leonard Ang, the CEO of iPropertyManagement Leasing. "It's helpful that a lot of our properties are large complexes with multiple units, making it easy to show our renters how much we're not raising their rent by comparison."
"I consider keeping the rent and lease offers below-market prices going an extra mile. [This] could pay off immensely if you can maintain your renters for a very long period. It would go a long way toward reduced [renter] turnover," said Emma Gordon, founder of US Salvage Yards based in Dallas County, Texas.
"When rents are at minimal appreciation, I don't raise the rent," said Kurt Grosse from Realty One Group Las Vegas. "I want my renters to be grateful to have a clean and nice place to live without being gouged for rent. When renters know they are staying they often make improvements. I try to be reasonable when rent is late a few days and will waive the charge 'one time.'"
COMMUNICATION IS NO. 1
Next on the list, create excellent communication channels whether it be through your property management portal or more personalized solutions such as a company newsletter written to keep renters informed. Most importantly, be responsive to all maintenance requests. No one likes to feel like their needs are being ignored.
"Yes, I ensure that communication between my property manager and the renter is excellent, and that their concerns are attended to swiftly," said Gordon. "This makes my renters happy and more compelled to renew their lease because they are attended to properly." 
"To retain renters you'll need to present a clean and well cared for property," said Samuel. "This means responding to inquiries in a timely manner and performing the repairs professionally."
An excellent tip came from Matthew Carter, attorney at Inc and Go (www.incandgo.com). "For residential rentals, have a good property manager and a home warranty. That way, you can make sure any maintenance issues the renter has can be taken care of immediately. Timely responses to renter problems are always going to be key. The moment you make it difficult for a renter to get in touch with you, you are risking a break."
Next, try little extras created to work in your best interest while also making renters happy. "I leave touchup paint and ask the tenant to touch up the walls before we make our annual inspection," said Grosse. "This often eliminates the need for painting upon vacancy. I also provide the inexpensive air filters for the tenant to change. Sometimes they are strapped for money, and I don't want to sacrifice the life of my HVAC for $10 a year."
"I also ensure that routine checks like plumbing and wiring are done on their apartments, and necessary replacements are performed.," said Gordon. "In addition, I provide optimum security services for them, both electronic and in-person, to make them feel safe and comfortable."
"I believe a good renter is more important than the monthly rent," continued Grosse. "By not needing a property management company, it's like getting 7-10 percent more each month. My renters are $100, which eliminates use of my time and keeps money in the renters' pockets. If my renters pay their rent on time for two years, I pay for the carpets to be cleaned. This is good for the carpet's longevity, makes the renters love me, and it keeps them in the house longer because it looks good."
REMEMBER KINDNESS
Always think of renters as your family and show them dignity and kindness. Your attitude alone can keep renters in place. When a property provider acts rudely or overlooks a renter's feelings, it can be harmful to the relationship. After all, the renter makes your unit or house his or her home – and a home is a personal place. Ill will toward a property provider can push a renter to leave as soon as possible. "Renters are people who appreciate kindness," said Grosse. "In this corporate world, they don't see it often enough and are grateful to work with a person who shows kindness."
It doesn't take a lot to leave a positive impression. "I had two [renters] who were sharing a unit as roommates," said Vaamonde. "One of them got a girlfriend and they were so in love that they wanted to move in together a few months before the lease expired. Instead of being a stickler for rules, I allowed them to break their lease without a penalty and, because I knew they were great renters, gave them their security deposits back right away. I also arranged for a moving company to help them move their stuff, at my expense."
It's always thoughtful to do little gestures that warm the heart and show you care. "Gifts during the holiday season are always a pleasant surprise for renters," said Jasen Edwards, editor at Agent Advice. It's these extra little touches that can help to foster the renter-property-provider relationship. You need to consistently position yourself as someone who's open and ready to address their concerns."
Vaamonde added, "I send my renters a $20 gift card on Christmas as a way of saying Merry Christmas. I also send flowers on Mother's and Father's days (dads like flowers too, you know). It's a small gesture that shows that I see my renters as more than just customers. They're human beings."
Michelle Gamble is the editor of Rental Housing Magazine.